Validating your Endpoint
To validate your endpoint will work with the Product Comparator Demo, you can temporarily add this to your browsers cache and the tool.
Note: this is not permanent and only you can see and interact with this on your web browser
To validate your endpoint before submitting it into the Product Comparator Demo.
Open up the bank panel by clicking 'Banks'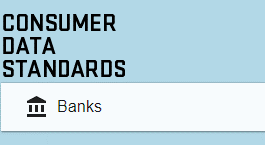 In this panel, scroll down to the bottom of the panel and select the button to add, located on the right hand side of the panel:

A small form will appear to the left of the button, fill out the form with requested details.
Once, you have added the Name of your organisation and URl you can click the Blue Tick button to the right
Congratulations. You're now able to validate if the Product Comparator Demo can initiate a call to your Product Reference Data endpoint.